Master Gift Officer™
Exclusively created and refined by Copley Raff, the Master Gift Officer™ is the ultimate opportunity for advancement professional development. Master Gift Officers are prepared to revolutionize donor relationships, execute successful asks, and ensure sweeping enhancements to fundraising outcomes.
Learn what makes a Master Gift Officer so much more than a Major Gift Officer and how you and your colleagues can acquire these career defining and enhancing skills.
Master Gift Officers demonstrate at least ten of the following skills and traits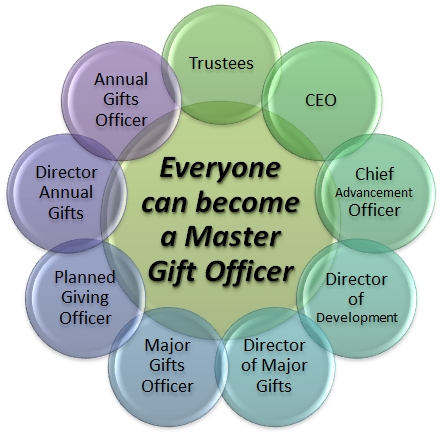 PURPOSE & CONVICTION A clear sense of purpose and the conviction that their work contributes to having a meaningful life.
PASSION FOR MISSION A genuine passion, commitment, and knowledge for the fundraising purpose.
RAPPORT UNIVERSALITY The skill to establish genuine rapport rapidly with just about anyone.
RELATIONSHIP DIVERSITY The ability to create and sustain meaningful long-term relationships with people who have a wide range of personality types and diverse cultural backgrounds.
AUTHENTIC ENGAGEMENT Actively listens with interest and open mind, and be nonjudgmental and authentically care about others.
INTELLECTUAL PURSUIT Has intellectual curiosity, engages in disciplined learning, and rapidly integrates knowledge.
LEADERSHIP Routinely demonstrate excellence as a leader, collaborator and team builder.
INSPIRES AND MOTIVATES Has exceptional communication skills with the ability to inspire and motivate through both logic and emotion.
ASKS WITH PLEASURE Embodies confidence, comfort and true pleasure in skillfully asking for gifts of all sizes and types.
EXECUTES Executes on the deep understanding of institutional priorities and giving vehicles¸ and has the discipline to create and implement cultivation and solicitation strategies.
ETHICAL Exhibits total respect and commitment to ethical philanthropy professional practices and conduct.
SELF-DRIVEN Radiates immense energy, self-motivation, and dedication to goal achievement.
EMOTIONAL INTELLIGENCE Acts upon high emotional and social intelligence.
POSITIVE Has a sincere and positive attitude and routinely sees possibilities and expresses optimism.
FOLLOW THROUGH Consistently follows through in all endeavors. An MGO takes responsibility and closes the loops.
©2011 Diane Blumenson, Philanthropy Leadership Advancement Nexus & Copley Raff Inc.