It's time for the nonprofit sector's stakeholders to exert our considerable influence on the national debate in response to the Trump administration's chilling budget blueprint. Nonprofit organizations account for 11.4 million jobs, 10.3 percent of all private sector employment, $370 billion in charitable giving and touch the lives of every American. Collectively and individually, stakeholders can wield significant influence on the national debate.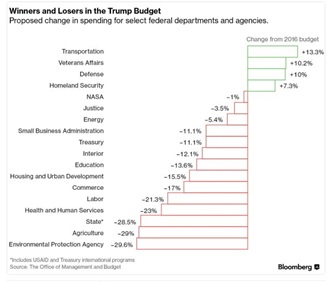 Make no mistake. The Nonprofit sector is under assault.
Some of the proposed cuts include reductions to:
• Sea Grant funds that support research institutes like the Woods Hole Oceanographic Institution.
• The Legal Services Corporation, which provides legal assistance for low-income citizens.
• The National Endowment for the Arts and the Corporation for Public Broadcasting.
• The National Institutes of Health, a major source of research funding for colleges, universities and medical centers across the nation that would shrink by nearly 20 percent.
• The $3 billion Community Development Block Grant program that funds Meals on Wheels among many other anti-poverty, job training and school meal programs.
Dangers of Distortion and Disruption
At the core of the Trump administration's arguments justifying unprecedented reductions in discretionary, public benefit spending, are a barrage of alternative facts justifying these cuts to "Make America Great Again."
For example, Mick Mulvaney, Trump's Director of the Office of Management and Budget, said there is "no demonstrable" justification to keep the 19 federal agencies that would be eliminated by this budget. However, Mulvaney could offer no plausible explanation for how the Trump administration determined these targeted agencies' programs were not working as intended or serving a vital purpose for the country.
Inexplicably, the blueprint does not even incorporate Trump's cornerstone campaign promise to pour $1 trillion into roads, bridges, airports and other infrastructure projects to drive new jobs and improved economic well-being for hundreds of thousands of families.
This budget sets up a cascade of devastating consequences for stakeholder organizations and all Americans who benefit from their missions.
We must act swiftly to confront this affront to civil society, and use our mighty platform that represents and benefits millions of stakeholders, donors and citizens.
Educate and Mobilize Your Stakeholders and Beneficiaries
You and your organization MUST communicate swiftly and frequently with your donors and stakeholders through multiple channels, to share with them how your constituents and your mission will be affected by this budget proposal.
I encourage you to think beyond just the direct impact on your organization. Take a broader view that links the complexities of the economy and people's lives to the hardship that will result for your organization and the people you help.
Communicate your position on this budget. It will serve as a strong stewardship and fundraising strategy. Deliver regular email messages, featured space on your homepage, letters from your CEO to key stakeholders, broad-based direct mail appeals and social media posts to inform your stakeholders of the consequences of this budget proposal, at least from your organization's perspective.
This is an a-political, educational, public service that will benefit your supporters and constituents. You should also encourage your stakeholders to communicate with their congressional representatives… a philanthropic act, indeed! Give them links to sources of information containing real facts about the positive effects of your services and the negative effects of these proposed budget cuts.
Your takes:
1. It is time to act.
2. Conduct deep analysis addressing how the proposed federal budget priorities will affect your constituents and organization.
3. Design and execute an education and stewardship initiative to address federal budget priorities.